Play Crazy Time online and indulge in a whirlwind of excitement! Evolution Gaming brings you a dynamic live casino game filled with four adrenaline-pumping bonus rounds, offering the chance to win big with every spin. Test your luck and skills in this engaging and rewarding gaming adventure.
Pluses
Engaging Gameplay: Crazy Time offers an immersive and interactive gaming experience, thanks to its live hosts and thrilling bonus rounds. Players are constantly engaged throughout the gameplay
Variety of Betting Options: With numerous segments on the money wheel and four exciting bonus rounds, Crazy Time provides players with a wide range of betting options, catering to different preferences and betting styles
Innovative Bonus Rounds: The incorporation of four unique bonus rounds (Coin Flip, Cash Hunt, Pachinko, and Crazy Time) adds an element of surprise and excitement to the game, making each round unpredictable and enjoyable
Lucrative Multipliers: The Top Slot feature and the Crazy Time bonus round offer the opportunity to win substantial multipliers, leading to significant payouts for lucky players, enhancing the thrill of the game
Social Interaction: Crazy Time is played in a live casino setting, allowing players to interact with the live host and other players, creating a social and communal atmosphere while playing from the comfort of their homes
Minuses
Highly Volatile: Due to the game's structure and high potential multipliers, Crazy Time can be highly volatile, leading to both significant wins and losses, which may not be suitable for risk-averse players
Complexity: The inclusion of various betting options and bonus rounds might make the game seem complex for new players, requiring some time and practice to fully understand its mechanics
Dependence on Luck: While Crazy Time involves some strategic betting decisions, a considerable portion of the game relies on luck, which may not appeal to players who prefer skill-based games
Potential for Large Losses: With high multipliers also comes the risk of substantial losses, and players should be cautious and set responsible betting limits when playing Crazy Time
Limited Availability: While Crazy Time is gaining popularity, not all online casinos offer this game, limiting access for some players who might be interested in trying it out
Table of Contents
Crazy Time Game Review: Unleashing Fun in Every Spin
The world of online gaming has never been the same since the introduction of Crazy Time, a game that promises excitement, unpredictability, and color in every round. Ever heard of a game that combines technology, user-friendly interfaces, and the chance of winning big all in one place? If you haven't, then you're just in time for the thrill that is crazy time 1win!
Crazy Time First Steps
Welcome to the world of Crazy Time, where every spin brings a heart-racing anticipation. Picture a giant, colorful wheel spun by a live host, where every stop could be your big break. Imagine the atmosphere of a game show, with all the lights, high energy, and excitement, but right in your living room. That's what Crazy Time offers its players: an immersive experience that's one of a kind.
How to Play Crazy Time
Curious about how to get involved? It's simpler than you think! Players make bets on numbers or bonus game sectors on this super-sized wheel. If the wheel stops at your chosen spot, you win! It's that easy. But the real magic happens in the bonus rounds – that's where the crazy part of Crazy Time comes alive.
Bonus Rounds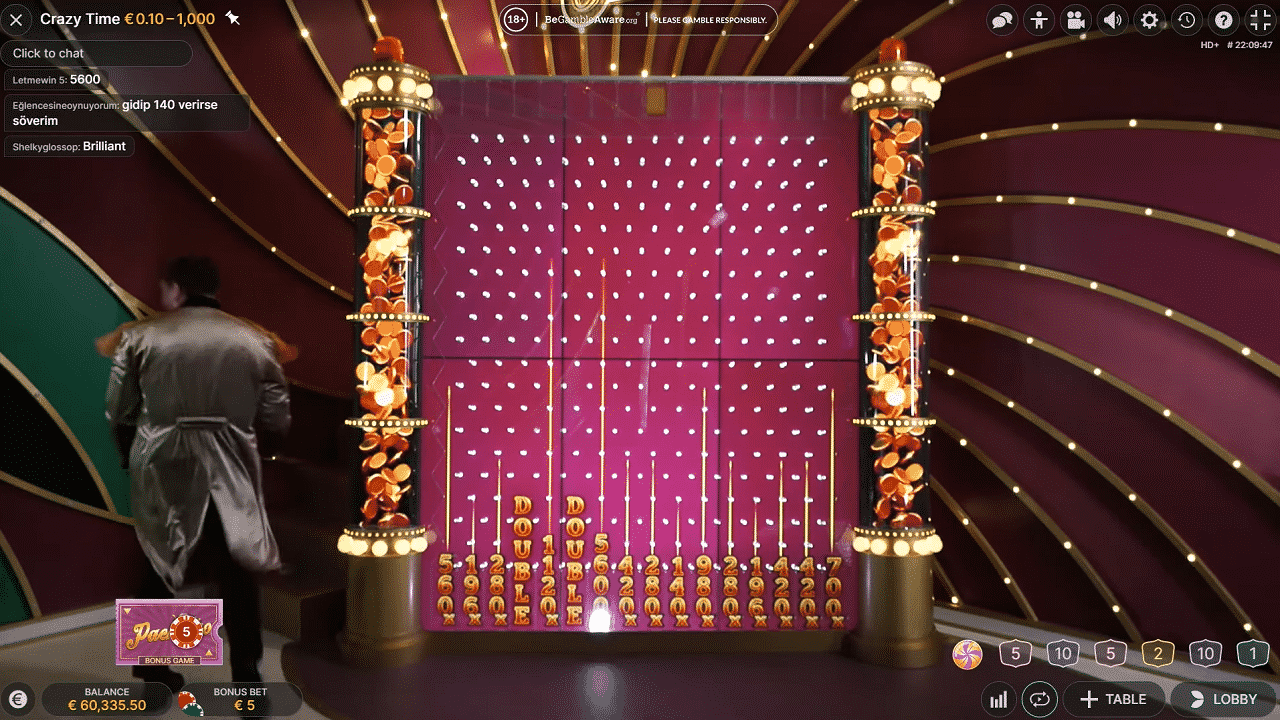 Cash Hunt
Cash Hunt is a shooting gallery, but you're shooting for multipliers instead of ducks or targets! Here's how it unfolds:
Players are presented with a large screen featuring 108 random multipliers.
Various symbols then cover these multipliers, shuffling their positions and creating a sense of mystery and anticipation.
Each player gets to choose one symbol on the screen. Behind each symbol is a hidden multiplier; your prize is revealed once you decide.
The key here is that it's all about luck – there's no way to tell which symbol hides the highest multiplier. It's a thrilling game of chance that can lead to substantial rewards.
Coin Flip
This game is as straightforward as it sounds but with a twist of excitement. Here's what happens during the Coin Flip:
Players are faced with a virtual coin that has a red side and a blue side.
Before the coin is flipped, each side is assigned a random multiplier. One might be low, the other high, or both might be somewhere in the middle – it's all part of the game's unpredictability.
The coin is flipped, and whichever side it lands on determines the multiplier applied to the player's bet.
The simplicity yet unpredictability of this game is what constitutes its charm. It's a classic gamble with the potential for a fantastic payout.
Pachinko
Inspired by the classic Japanese game, Pachinko in Crazy Time is all about gravity and chance. Here's how this bonus round works:
Players are presented with a large Pachinko board filled with physical pegs. At the bottom are slots with various multipliers; some might even say "Double."
A puck is introduced from the top of the board and makes its way down, bouncing off pegs randomly.
Whichever multiplier the puck lands on is what the player wins. If it lands on "Double," all the multipliers on the board double in value, and the puck is dropped again until it hits a numerical value.
There's no predicting the outcome here, making it a thrilling watch each time the puck is dropped.
Crazy Time
The bonus round that shares its name with the game Crazy Time is the pinnacle of excitement in this game. Here's the crazy process:
Players are taken to a virtual world with a gigantic wheel featuring various segments with different multipliers and even "Double" and "Triple" spots.
Players choose a flapper (green, blue, or yellow), representing where they stand on the wheel.
The wheel is spun, and when it comes to a halt, the segment your chosen flapper points to is your prize. If it's a "Double" or "Triple," all the values on the wheel are doubled or tripled, and it's spun again.
This round can lead to the game's most significant payouts, especially if the wheel consecutively hits several "Double" or "Triple" segments. The tension, the anticipation, and the potential for a massive win make this the most thrilling part of Crazy Time.
Each bonus round in Crazy Time brings unique thrills and opportunities for significant wins. They're designed to inject high-paced excitement into the game, making it an unforgettable experience that keeps players returning for more. Whether it's the mystery of Cash Hunt, the simplicity of Coin Flip, the randomness of Pachinko, or the exhilarating suspense of Crazy Time, these bonus rounds are at the heart of what makes this game not just another online casino game but a roller coaster of fun and excitement!
Features of Crazy Time
What makes this game stand out? Its features are unparalleled! There are four bonus games: Cash Hunt, Coin Flip, Pachinko, and Crazy Time. These aren't just your average bonus rounds; they're gateways to a world of unlimited fun and potential fortune. Imagine diving into a virtual world and coming out real money richer. It's like the golden ticket from Charlie and the Chocolate Factory, but the chocolate is money, and the factory is your screen!
Strategies for Winning
Understanding Each Betting Option
Crazy Time has various betting options, including numbers and bonus rounds. Each has its own set of odds and potential payouts. Before placing any bets, players should understand these aspects thoroughly:
Numbers (1, 2, 5, 10): These are the most frequent stops on the wheel, with "1" being the most common. Betting on "1" offers lower risk but also lower returns. Conversely, "10" appears less often but provides a higher payout. Balancing your bets across these options can manage risk while allowing for occasional higher rewards.
Bonus Games (Cash Hunt, Coin Flip, Pachinko, Crazy Time) are the real game-changers. They appear less frequently on the wheel, but landing one can mean a significant payout. However, consistently betting on these can deplete your bankroll quickly if you hit a cold streak. Understanding the frequency and the potential rewards each bonus game offers can help decide how often to bet on these segments.
Bankroll Management
This must be stressed more. Decide beforehand how much you will spend and stick to that decision. It's easy to get caught up in the excitement and spend more than you intended. A good strategy is to determine a percentage of your total bankroll for each bet and adjust your bet amounts based on the size of your bankroll.
Analyzing Bonus Game Strategies
Each bonus game has its own set of rules and strategies:
Cash Hunt: This game presents a screen of multipliers covered by symbols. Players choose a symbol, revealing a hidden multiplier. It's a game of luck, but the excitement is in the anticipation!
Coin Flip: This involves a coin with a blue and a red side, each containing a multiplier. The coin is flipped, and you win the multiplier if it lands on your chosen side. It's 50/50 – a true gamble!
Pachinko: Similar to Plinko, a puck is dropped, and it falls, landing on a multiplier. There's no way to predict the outcome, so it's all about crossing your fingers and hoping for the best.
Crazy Time: The star of the show, this game takes you to a virtual wheel with various multipliers and doubles or triples. The host spins the wheel, and whatever it lands on, you win. Players should pay attention to the previous payouts to gauge whether a high payout might be due soon.
Taking Breaks
Sometimes, the best strategy is to step back. If you are on a losing streak, take a break, reassess, and return refreshed. Continuous gameplay can lead to fatigue, which might affect decision-making.
Studying Game Statistics
Many platforms offer histories of past spins, which include the number of times the wheel landed on each segment. While past outcomes don't influence future ones due to the game's random nature, studying these can sometimes offer insights and help make informed betting decisions.
Playing for Fun, Not for Income
Remember, Crazy Time is a game of chance. It's designed for entertainment rather than as a way to make money. Enjoy the experience, celebrate the wins, and accept the losses. It's all part of the game!
Understanding and implementing these strategies can potentially improve your Crazy Time experience. However, the most important thing is to have fun and enjoy the game responsibly. After all, in the crazy, spinning world of this game, the journey is just as enjoyable as the destination!
Comparing Crazy Time with Other Games
How does Crazy Time stack up against other live casino games? It's like comparing a thrilling roller coaster ride with a gentle carousel. Both have their charm, but if you're looking for exhilarating highs and lows, unexpected twists and turns, and the chance to win big, Crazy Time is your game. It's the perfect blend of live gaming and participation fun.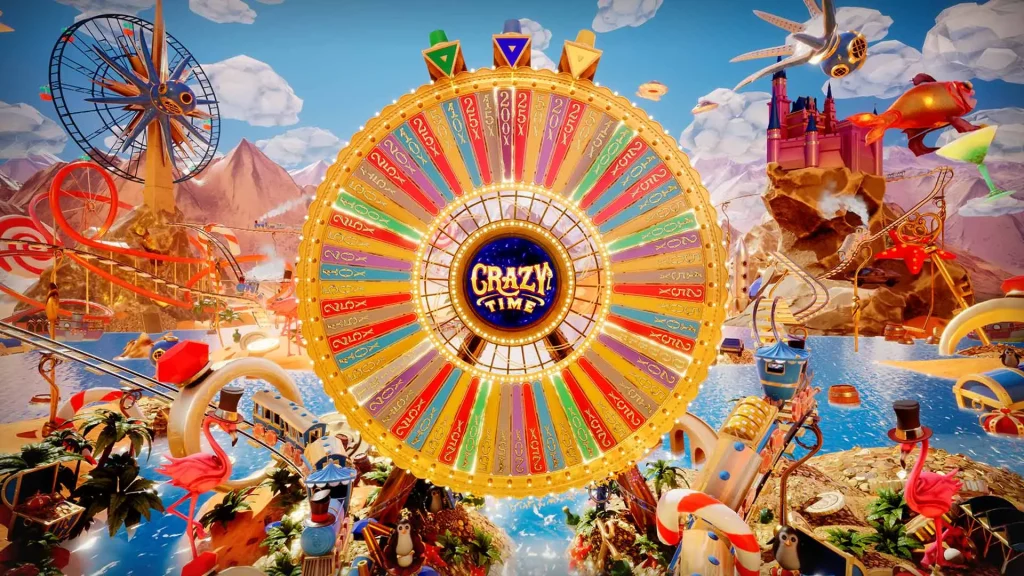 Playing Crazy Time on Mobile
In a world where convenience is king, Crazy Time's mobile compatibility is a game-changer. Imagine waiting in line at the grocery store or sitting on a park bench enjoying the sun with the excitement of the game at your fingertips. The game's mobile version retains all the quality, excitement, and immersive experience of its desktop counterpart, promising fun on the go.
The Live Host Experience
What's a game show without a host? It's just a show! The live hosts of Crazy Time are the beating heart of the game. They interact with players, spin the wheel, and oversee the bonus rounds, ensuring you're glued to your screen. They're your guides on this wild adventure, making every spin more exciting than the last.
Benefits of Playing Crazy Time
Apart from the thrill, what else do you gain from playing? For starters, there's the potential for big wins, especially during the bonus games. Then there's the sheer entertainment value, which is hard to find in standard casino games. Also, pay attention to the convenience of playing from anywhere, whether in the comfort of your home or while out and about.
Potential Downsides
It's not all sunshine and rainbows, though. The potential downsides are akin to those of any gambling activity. There's a risk of loss, and it can be easy to get caught up in the excitement. Knowing when to play and walk away is vital to keeping the game fun.
User Experiences and Reviews
What's the word on the virtual streets? Users are raving about Crazy Time! They're enamored with the game's high-quality streaming, the engaging hosts, and the unparalleled excitement of the bonus rounds. It's not just a game; it's an event, a happening, an experience to be savored.
Responsible Gaming
As with all forms of gambling, responsible gaming can't be overstressed. It's crucial to approach Crazy Time with a mindset of fun rather than a source of income. Setting limits, sticking to them, and recognizing when to take a break is vital to ensure a positive gaming experience.
FAQs
1. Is Crazy Time rigged?
Not at all! It operates with a certified fair play system, ensuring random spins and outcomes.
2. Where can I play Crazy Time?
Crazy Time is available on many online casino platforms, including 1win, known for its secure and user-friendly interface.
3. What's the maximum payout in Crazy Time?
Each bonus game has different payouts, but you can win up to 20,000 your bet in the Crazy Time bonus round!
4. Can I play Crazy Time for free?
Some platforms may offer demo versions or promotional offers that provide free play, but generally, real bets mean real money.
5. How is Crazy Time different from other casino games?
Crazy Time combines the live-host format of game shows with the chance of winning big all wrapped up in an extremely fun, colorful, and interactive package. It's more than a game; it's an adventure.
Remember, the key to enjoying Crazy Time is to play responsibly and view it as entertainment. It's a whirlwind of fun, color, and excitement that's changing the face of online gaming. So, why not give Crazy Time 1win a whirl and see where the wheel stops for you?