"Legacy of Dead" has a lot to offer in terms of visuals, gameplay, and potential rewards. However, its high volatility and some repetitive elements may not appeal to all players, making it essential to consider personal preferences before embarking on this ancient Egyptian adventure.
Pluses
Immersive Graphics: Legacy of Dead features stunning visuals and detailed graphics that transport players to the captivating world of ancient Egypt, enhancing the overall gaming experience
Engaging Gameplay: The game's storyline and gameplay mechanics keep players engaged throughout their adventure, with the opportunity to uncover hidden treasures and mysteries
Free Spins Feature: The Free Spins feature, triggered by the iconic Book symbol, provides players with the chance to win additional spins and increase their potential rewards
Expanding Symbols: The randomly chosen expanding symbols during the Free Spins feature add an element of surprise and excitement, offering the possibility of significant wins
Gamble Feature: For risk-takers, the Gamble feature allows players to double or quadruple their winnings, adding an extra layer of thrill to each successful spin
Minuses
High Volatility: Legacy of Dead has high volatility, meaning that players may experience periods of smaller wins or even losses before hitting significant payouts
Lack of Innovation: While the game is well-designed, some players might find that it lacks groundbreaking innovations or unique features compared to other slot games
Gamble Risk: The Gamble feature, while enticing, can also lead to the loss of winnings, potentially discouraging players from taking the risk
Limited Betting Options: The range of betting options might not cater to all types of players, especially those who prefer very low or very high stakes
Theme Repetition: The Egyptian theme, while popular, has been used in various other slot games, making "Legacy of Dead" less distinctive for players seeking originality
Legacy of Dead from Play'n Go: An Adventure into the Egyptian Burial Chambers
Introduction
The gaming industry has been on a constant rise, and Play'n Go, a prominent game developer, has consistently delivered captivating and thrilling experiences for players worldwide. One of their latest releases, "Legacy of Dead," is part of the renowned Book series. This game promises an exciting adventure filled with twists and turns, as players delve into the enigmatic Egyptian burial chambers on a quest for treasure. In this article, we will explore the key features, gameplay, and overall experience that "Legacy of Dead" offers, making it a must-try for all gaming enthusiasts.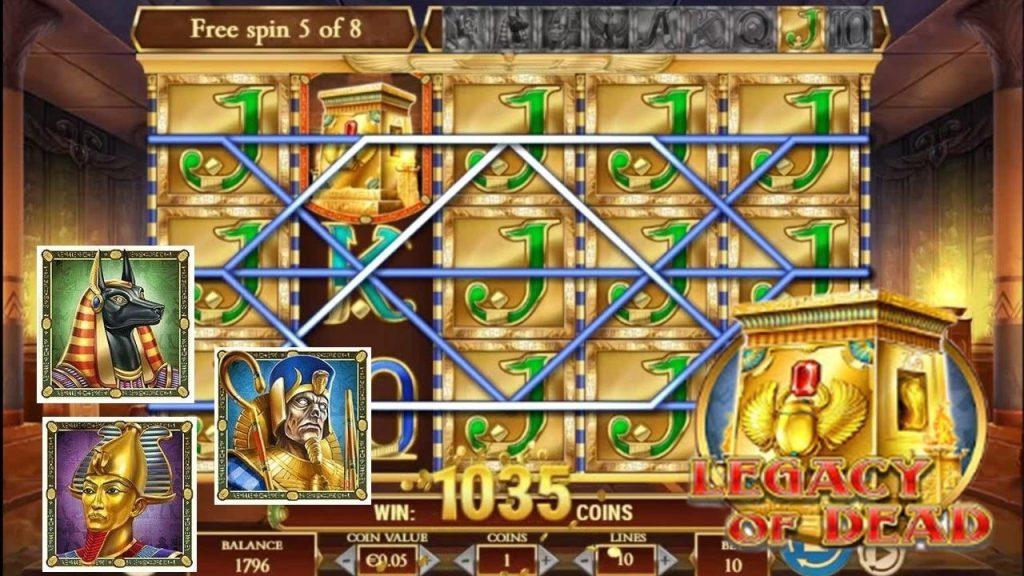 The World of Legacy of Dead
1. Engaging Graphics and Visuals
"Legacy of Dead" captivates players with its stunning graphics and immersive visuals. The game's design pays meticulous attention to detail, transporting players to ancient Egypt, where they are surrounded by grand pyramids, hieroglyph-covered walls, and hauntingly atmospheric chambers. The attention to detail in the visuals enhances the overall gaming experience and immerses players into the world of pharaohs and mysteries.
2. Enthralling Soundtrack
A great soundtrack can elevate the gaming experience, and "Legacy of Dead" does not disappoint in this regard. The game features a compelling soundtrack that perfectly complements the theme. From the mysterious and suspenseful tones during exploration to the adrenaline-pumping beats during crucial moments, the soundtrack enriches the overall ambiance and keeps players engaged throughout their journey.
Gameplay and Features
3. Unraveling the Secrets
As players embark on their treasure hunt in the Egyptian burial chambers, they must unravel the secrets hidden within. The game incorporates captivating storytelling, and players assume the role of daring adventurers in search of ancient artifacts and riches. The storyline adds depth to the gameplay, making each spin on the reels more than just a mere wager.
4. The Book Symbol – A Key to Riches
In line with the Book series, the game features the iconic Book symbol as both a Wild and a Scatter. The Book symbol acts as a Wild, substituting for other symbols to form winning combinations. As a Scatter, it triggers the Free Spins feature. Landing three or more Book symbols on the reels during the base game awards ten free spins, presenting players with even greater chances of uncovering valuable rewards.
5. Expanding Symbols for Greater Wins
During the Free Spins feature, a special symbol is randomly chosen before each round. This chosen symbol can expand to cover an entire reel if enough of them appear on the screen. This unique feature can lead to significant wins, especially when high-value symbols expand, creating thrilling moments and boosting players' excitement.
6. Gamble Feature
For those seeking an extra thrill, "Legacy of Dead" offers a Gamble feature. After any win, players have the option to gamble their winnings by choosing the color or suit of a facedown card. Guessing the correct color doubles the win, while guessing the correct suit quadruples it. However, an incorrect guess means losing the winnings, so players must tread carefully.
In Conclusion
"Legacy of Dead" from Play'n Go brings players on an unforgettable journey into the heart of ancient Egypt. With its enthralling graphics, captivating storyline, and exciting features, this game is a testament to the creativity and innovation of the gaming industry. Whether you are an experienced player or new to the world of online slots, this game offers something for everyone.
Get ready to explore the Egyptian burial chambers, face ancient mysteries, and seek out treasures beyond your wildest dreams. Let the haunting soundtrack guide you through this adventure, and may the Book symbols lead you to unimaginable riches.
FAQs
1. Is "Legacy of Dead" available on mobile devices?
Yes, "Legacy of Dead" is fully optimized for mobile play. Players can enjoy the game on their smartphones and tablets, allowing for gaming on the go.
2. What is the RTP (Return to Player) of "Legacy of Dead"?
The game's RTP is set at a competitive rate, offering players a fair chance of winning over the long term.
3. Can I play "Legacy of Dead" for free?
Yes, many online casinos offer a demo version of the game, allowing players to try it out for free before playing with real money.
4. Is there a progressive jackpot in "Legacy of Dead"?
No, "Legacy of Dead" does not feature a progressive jackpot. However, the game offers substantial win potential through its expanding symbols and Free Spins feature.
5. Can I play "Legacy of Dead" in my country?
The game's availability may vary depending on the country and local regulations. Players are advised to check with their preferred online casinos for availability.