Pluses
Innovative StackWays Mechanism: The game introduces an exciting StackWays mechanism, offering 112,896 ways to win, which significantly enhances the gameplay and adds a unique twist.
High-Quality Graphics and Sound: With visually stunning graphics and captivating soundtracks, Ronin StackWays provides an immersive experience that transports players into ancient Japan.
Variety of Betting Options: Catering to both beginners and high-rollers, the game provides a broad range of betting options, making it accessible to players with different budget levels.
Bonus Rounds and Free Spins: The inclusion of bonus rounds and free spins adds extra layers of excitement and increases winning opportunities, making the gameplay more engaging.
Compatibility Across Devices: Designed to be played on various devices, including mobile, Ronin StackWays ensures that players can enjoy the game wherever they are, without compromising on quality.
Minuses
Potentially Complex for New Players: With its unique mechanics and features, the game may be somewhat confusing to new or casual players, requiring some time to fully understand.
Medium to High Volatility: The medium to high volatility may deter some players looking for more consistent, smaller wins, as it might lead to less frequent payouts.
Lack of Progressive Jackpot: For players who are attracted to progressive jackpots, the absence of this feature in Ronin StackWays might be disappointing.
Limited Theme Appeal: The Samurai theme, while engaging to many, might not appeal to all players. Those not interested in the historical or cultural aspects may find the theme less attractive.
Potential Costs with Bonus Buy Option: The Bonus Buy feature, which allows players to buy into bonus rounds, may lead to additional costs that could deter some players or lead to over-spending.
Ronin StackWays by Hacksaw Gaming slot review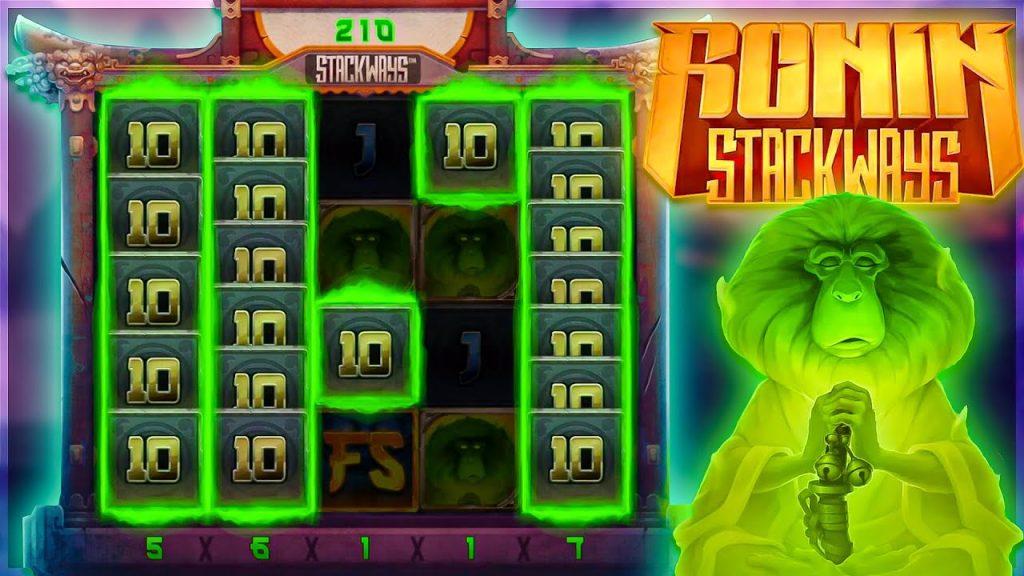 Introduction to Ronin StackWays by Hacksaw Gaming
Ronin StackWays by Hacksaw Gaming is a thrilling journey into the world of Samurai and adventure. Envision yourself as a fearless warrior journeying through ancient Japan, facing unknown challenges. This review is your gateway into the mysterious and enigmatic realm of Ronin StackWays.
The Art of Gaming
Storyline
Ronin StackWays takes players to feudal Japan, where principles of honor and courage reign supreme. This game captures the true essence of the Ronin, masterless Samurai warriors.
Graphics and Sound
The game's visuals narrate a grand story. Paired with enchanting soundtracks, the aesthetics of Ronin StackWays effortlessly whisk you away to an era of swords and nobility.
Game Mechanics and Features
StackWays Mechanism
Are you fascinated by unique gameplay? The StackWays mechanism unveils a staggering 112,896 ways to win. This isn't merely a game; it's an intricate labyrinth filled with opportunities!
Bonus Features
Bonus rounds and free spins are at your beck and call, amplifying your prospects of substantial wins.
Betting Options
Ronin StackWays offers diverse betting choices, appealing to novices and seasoned players. It's about striking the perfect equilibrium like a warrior wielding his blade.
Compatibility with Devices
Whether on the move or cozy at home, Ronin StackWays is designed to fit various devices, ensuring the adventure is always within reach.
How to Play
Tips and Strategies
Understanding Paylines
Navigating the game's pay lines is similar to tracing the complex trails of a Samurai's life. Master them, and you've already won half the battle!
Utilizing Bonus Rounds
Much like a samurai's repertoire of tactics, using the bonus rounds wisely can be your secret to victory.
Player's Experience
Safety and Fairness
Trust and integrity are at the core of Ronin's beliefs, and the game echoes this through a secure and equitable gaming experience.
Conclusion
Ronin StackWays by Hacksaw Gaming transcends the ordinary slot game; it's a thrilling experience, an extraordinary journey, and an enthralling adventure. With its compelling storyline, exciting game mechanics, and visual grandeur, it's a game you must experience.