Experience online gambling like never before with Aviator by Spribe. Enjoy the thrilling curve crash mechanic, strategic gameplay, and immersive graphics. Join the Aviator community for a one-of-a-kind betting and winning experience. Start playing now!
Pluses
Innovative Gameplay: Aviator's curve crash mechanic brings a fresh and thrilling aspect to online gambling. It's a unique approach that sets the game apart from traditional casino offerings
Accessibility: The simplicity of the game makes it accessible to players of all levels. Whether you're a newcomer or a seasoned gambler, Aviator's rules and gameplay are easy to grasp
Social Interaction: Aviator often allows players to play alongside others, adding a social dimension that enhances the excitement and allows players to learn from each other's strategies
Strategic Depth: While the game is easy to learn, it offers a deep strategic experience. Players must balance risk and reward and make timely decisions, adding layers of strategy and engagement
Visual Appeal: The sleek design and attractive graphics create an immersive experience, drawing players into the game and enhancing the overall enjoyment
Minuses
Risk of Loss: Like all gambling games, Aviator comes with the risk of loss. The curve can crash at any moment, and if players don't cash out in time, they lose their bet
Addictive Nature: The fast-paced and thrilling nature of the game can become addictive for some players, leading to potential issues with over-gambling
Lack of Diverse Game Elements: While the curve crash mechanic is innovative, some players might find the game repetitive over time, as it lacks diverse elements or different game modes
Potential Technical Issues: Any game reliant on real-time decisions can be affected by internet lag or technical glitches. If a player's connection is lost at a crucial moment, it can lead to frustration and loss
Limited Appeal to Traditional Gamblers: Players who prefer classic casino games and traditional gambling experiences may find Aviator's unique mechanic off-putting or less appealing
Table of Contents
Soar to New Heights with Aviator: Spribe's Poetic Journey into Innovative Online Gambling
Introduction in Aviator crash game
Ever heard of a game that takes online gambling and transforms it into a riveting experience of thrills and rewards? Aviator is that game. Developed on the fascinating curve crash mechanic, it's not just another slot game it's a world of engagement.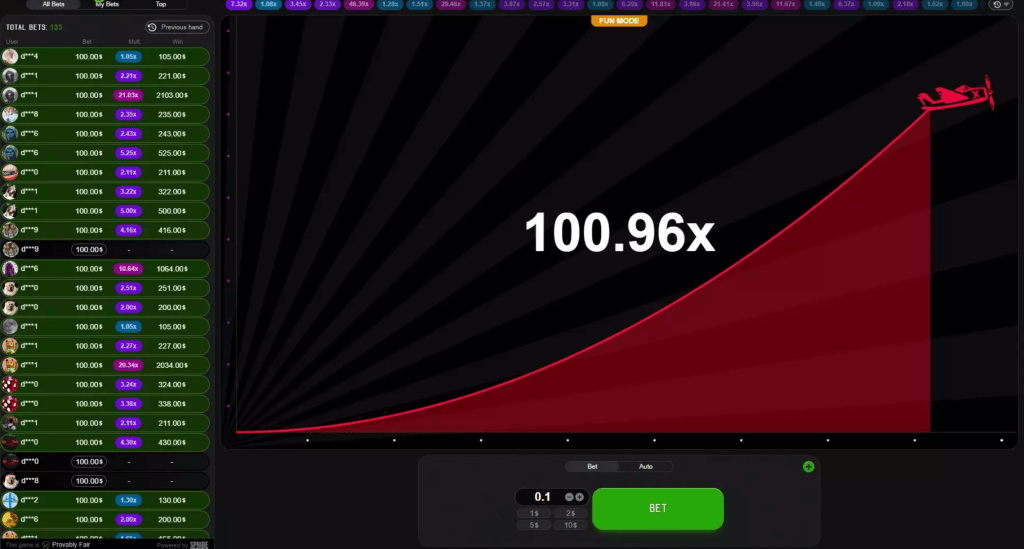 Overview of the Game
The Curve Crash Mechanic
The curve crash mechanic is a simple yet intriguing concept. It represents a constantly rising curve that can crash at any moment. In Aviator, this translates into a gripping gameplay where timing is key, allowing for unpredictability and excitement.
Uniqueness
Unlike other slots, this game stands out as a horse of another color. It's not just about spinning and winning; it's about strategizing, engaging, and enjoying a one-of-a-kind gaming experience.
Features and Tools
Graphics and Design
Sleek design and stunning graphics immerse you into the game, offering a real-time experience that's both captivating and visually appealing.
Game Mechanics
The game allows you to place bets and pull out before the curve crashes. It's a balancing act of risk and reward, one that keeps players on their toes.
In-Game Tools
Aviator provides unique tools and features that make the game not only entertaining but also transparent and fair.
Player Experience
Engagement and Interaction
Is not merely a game; it's an interaction. Players engage with the game, other players, and the system itself, creating a community within the platform.
Accessibility
The game's simplicity makes it accessible to both newcomers and seasoned gamblers alike. With minimal barriers to entry, anyone can join in the fun.
Comparison with Similar Games
What Makes This Game Stand Out?
While there are games built on similar mechanics, Aviator's distinctive features and immersive experience set it apart from the crowd.
Betting and Winning Strategy
The betting and winning strategy in Aviator is both simple and complex at the same time, adding an extra layer of excitement and challenge to the game. Below is a detailed look at how it works:
Understanding the Curve
The game is built around a constantly rising curve that represents a multiplier. The longer a player stays in the game, the higher the multiplier – but the risk of the curve crashing also increases. The goal is to cash out before the crash, multiplying the initial bet by the value of the curve at that moment.
Placing Bets
Betting in Aviator is straightforward. Players choose an amount they are willing to wager, and as the game round begins, they watch the multiplier increase. The bet can be any amount, allowing flexibility for both low-stakes and high-stakes players.
Cashing Out
Cashing out is where strategy comes into play. Players must decide when to cash out their bet, multiplying it by the current value of the curve. Cashing out too early may result in smaller winnings, but waiting too long may lead to a loss if the curve crashes.
Strategic Approaches
Some players may opt for a conservative approach, cashing out early to ensure smaller but more consistent wins. Others may go for a more aggressive strategy, waiting for higher multipliers and potentially larger payouts.
Playing with Others
What adds another layer of depth to betting strategy is the fact that players are often playing alongside others. Watching when others cash out can influence a player's decision-making, adding social interaction and psychological elements to the game.
Tools and Features
Aviator also offers various tools and features to assist players in their betting strategy. Historical data, for instance, can be used to analyze past curve behaviors, and customizable automatic cash-out settings can be set to help manage risk according to individual preferences.
Conclusion
Aviator by Spribe is more than just an online slot game. With its curve crash mechanic and unique features, it stands as an innovation in the gambling world, offering an engaging, reliable, and thrilling experience. From its stunning visuals to its strategic gameplay, Aviator truly takes online gambling to a whole new level.
FAQs
What is the curve crash mechanic?

It's a gameplay feature where a curve rises and can crash at any moment, dictating the betting strategy.

How does Aviator differ from other slot games?

Aviator's interactive features and strategic gameplay make it unique among other slot games.

Is Aviator suitable for beginners?

Yes, its simple design and clear rules make it accessible to all players.

What are some of the in-game tools in Aviator?

Aviator offers various tools for a transparent and fair gaming experience.

Why is Aviator considered innovative?

Its unique curve crash mechanic and engaging features bring a fresh perspective to online gambling.